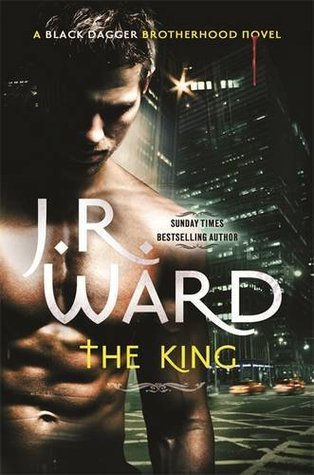 Author: J.R. Ward
Publisher:
Piatkus
Series: Black Dagger Brotherhood #12
Published Date: 26 August 2014
Source: Publisher
Synopsis:
In the darkest corners of the night in Caldwell, New York, a conflict like no other rages. The city is home to a band of brothers born to defend their race: the warrior vampires of the Black Dagger Brotherhood . . .
Wrath and the Brotherhood are locked in an epic battle over his throne and the very future of the vampire race.
Review: The King - J.R. Ward
After I finished Twilight I was on the hunt for less sparkly and more kickass vampires. I found them in J R Ward's The Black Dagger Brotherhood series. Once I finished Dark Lover, I binge-read the rest of the books. Every year I eagerly anticipate the moment when Ward announces a new addition to the series.
Yes, BDB is that addictive - Run while you can guys. I know that I am far too gone and can't save myself.
In The King we do a 360 and go back to where it all started-Wrath and Beth. However, there were many story lines and narrations from multiple POVs. My favorite POV was of course, Wrath and Beth. Man, Beth totally rocks in this installment. Throughout the series she's always been smart, fierce and simply awesome but in The King she takes her bad-ass-ery to a whole new level! After Dark Lover, I kinda expected Wrath and Beth to ride of into the sunset and have a happily-ever-after. Apparently, Ward had other plans. The royal duo have their bond truly tested in The King and it was an absolute pleasure to see them sort through all the issues.
The flashbacks to Wrath's parents were a pleasant surprise too.
The King and Queen aside, I also really enjoyed Xcor's, John Matthew's, Trez's and iAm's side of the story. I need Xcor to have a HEA, guys. This complex anti-hero was simply hilarious in a quiet, unassuming way and I adored his interactions with Layla.
This scene where he goes shopping to get ready for a "date" with Layla, had me giggling:
... "What kind of look are you going for?" he asked instead.
"Clothed."
... "Knock her dead, my man."
"Oh, no." Xcor shook his head. "That shan't be necessary. This one I like."
Trez and iAm kept stealing the show with the fascinating world of the
s'Hisbe. I can't wait to see what Ward has in store for the twins!
Saxton, Selena and Assail had plenty of screen time too There's a lot of unanswered questions so their narrations have definitely made me curious. Something that I've heard from other readers is that they disliked
the multiple POVs. The constant shifts from one POV to another were slightly jarring but I felt that after a couple of pages it all came together really nicely.
As much as I loved Ward's writing I couldn't help but be annoyed by the over use of pop-culture references, 'bro-talk' and brand name dropping. So yeah, Ward you might want to cut back on that in the next book.
But there's no doubt that the
sensual, dramatic and epic
world of the Black Dagger Brotherhood had me enthralled and hooked from page one.
To quote Rhage...
"There was a sniffle from the crowd.
At which point, Rhage's voice hissed, "What. This is beautiful, 'kay? Fuck all y'all."
Rating: 4 Stars
Over to you:
Have you read the BDB series? Who's your favorite brother? Zsadist will forever be my hero!
No? WHAT ARE YOU STILL DOING HERE?? SCRAM.