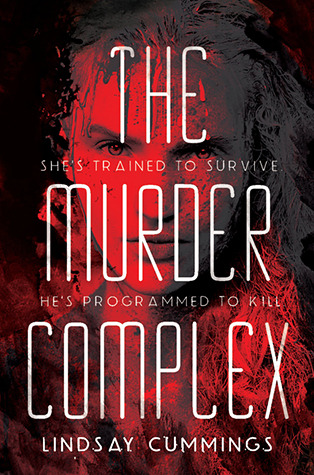 Author: Lindsay Cummings
Publisher: Greenwillow Books
Series: The Murder Complex #1
Published Date:
June 10th 2014
Source: Publisher
Synopsis:
An action-packed, blood-soaked, futuristic debut thriller set in a world where the murder rate is higher than the birthrate. For fans of Moira Young's Dust Lands series, La Femme Nikita, and the movie Hanna.
Meadow Woodson, a fifteen-year-old girl who has been trained by her father to fight, to kill, and to survive in any situation, lives with her family on a houseboat in Florida. The state is controlled by The Murder Complex, an organization that tracks the population with precision.
The plot starts to thicken when Meadow meets Zephyr James, who is—although he doesn't know it—one of the MC's programmed assassins. Is their meeting a coincidence? Destiny? Or part of a terrifying strategy? And will Zephyr keep Meadow from discovering the haunting truth about her family?
Action-packed, blood-soaked, and chilling, this is a dark and compelling debut novel by Lindsay Cummings
"Action-packed, blood-soaked, and chilling, this is a dark and compelling debut novel by Lindsay Cummings."
Action-packed? Maybe. Blood-soaked? Yes. Chilling? Nah. Compelling? Hahaha.
Dystopia is a tough genre for authors to tackle since pretty much everything has been done before and acts like The Hunger Games and The Bone Season are hard to follow up.
The world-building was nothing we have not seen before and the whole extreme science-equals-evil plotline grew tiresome. The lack of originality did not motivate me to keep up with The Murder Complex's convoluted plot. The plot 'twists' were predictable and even the well-written action scenes could not save the story. I felt that a more comprehensive background story and a little less terminology dump could have salvaged this debut.
I really liked the use of dual POVs and the switched narrations in each chapter may have been the only thing that saved The Murder Complex from hitting the DNF pile. However, Meadow and Zephyr failed to neither evoke any emotion nor leave an impression. The supporting characters felt two-dimensional and forgettable.
I REALLY thought we were done with this insta-love debacle, apparently not. I-Love-You's at beginning of the book did NOT help Meadow's and Zephyr's case.
Flux. Skitz. Chumhead. *face palm*
Dear Authors,
Invented curse words are not a 'thing'.
Please stop trying to make it happen. Your readers will be eternally grateful to you for this.
If you are not comfortable using swear words just avoid them.
Sincerely,
An absolutely pissed off reader.
The writing style which was choppy and chunky was not my cup of tea. Cummings spent such a large portion of the book trying to build up the suspense that when revelation finally came it failed to do make me care.
The Murder Complex had so much potential. The lackluster writing, boring characters, coma-inducing insta-love and the ridiculous use of alternative swear words made this novel irredeemable.
Lately, I feel like I need to stay the hell away from dystopia-What are your thoughts on the genre?
Are there any dystopia reads that you can swear by?
What did you think of The Murder Complex? Does it sound like a read that you'd enjoy?