So today's I have a really awesome author on the blog-Everyone meet
Rebecca Lewis!
Today I'll be doing the cover reveal for her debut, Merch Girl.
So go on take a look at the awesome-ness of
Merch Girl
!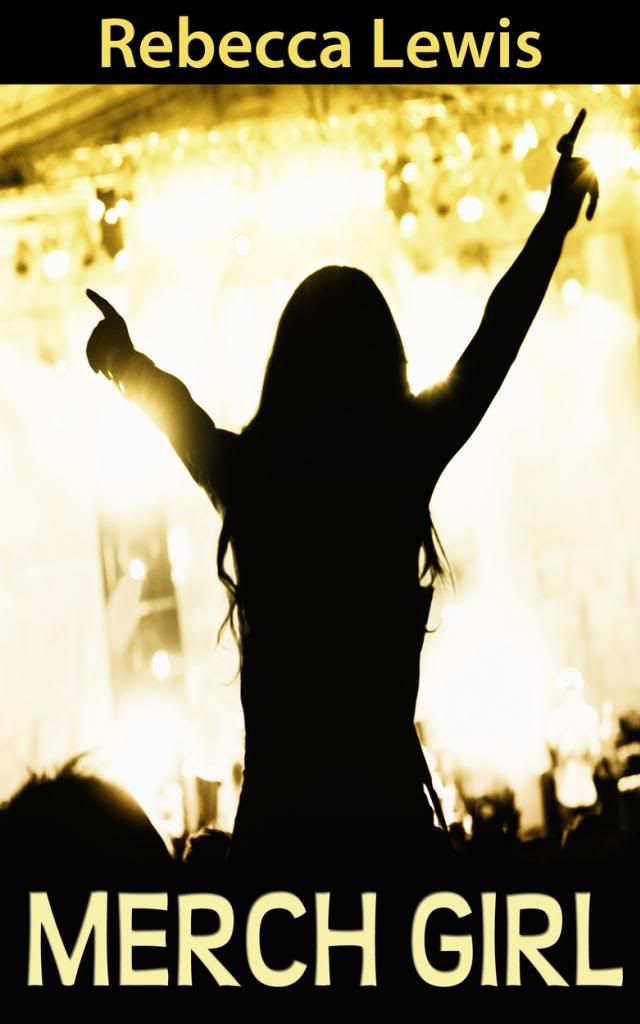 Author: Rebecca Lewis
Title: Merch Girl
Expected Date of Publication: May 4 2013
Synopsis:
Seventeen-year-old Lacey Kind doesn't have the guts to talk to cute boys, isn't a size two, and would rather stay home and listen to music than go to a party. But in the summer before her first year of college, she ends up thousands of miles away from home, in the back of a tour bus, underneath the half-naked body of the hottest teen rock star in the country.
When Lacey and her best friend Trina sneak into a Boston nightclub to see their favorite band, they not only get to watch their rock gods perform for the first time, but score a chance to meet the band too. Lacey's heart races as she comes face-to-face with her idol, nineteen-year-old lead singer, Logan Shire.
The girls charm their way into being hired to sell merchandise on Lansdowne's first summer tour. As "merch girls" Lacey and Trina quickly find themselves transported from their ordinary, suburban life to an exhilarating few months on the road. But they soon realize that life on the road isn't always a smooth ride...
Sounds great, doesn't it? :) So go on, add it to your TBR list!
Music is a huge inspiration for me. Not just in writing my novel, Merch Girl, but in everyday life. The band that would change my life forever came around in 1997. I was thirteen and just starting High School when I heard Mmmbop on the radio. I was mesmerized; I couldn't shake the song from my head!
My passion for Hanson's music, and many other bands that came along the way after, fueled my interest in the music industry. I made my way into the Boston music scene in college where I worked promotions and sold merchandise for local and national bands, as well as holding internships for indie and major record labels in New York City.

The idea for Merch Girl was always swimming around in my head, and as I wrote it, these are some of the songs that kept me going:
· "27" by Fall Out Boy. I love the lyrics "doing lines of dust and sweat off of last night's stage, just to feel like you." I feel like it transports me right into the venue.
· "Lost Without Each Other" by Hanson. This song is one of my favorite Hanson songs, it's fun to dance to at their concerts and I just happen to be in their music video…ok so you can't see my face clearly, but I was there when they filmed it at a club in Boston!
· "Lost in Stereo" by All Time Low. I can definitely relate to being "lost in the stereo sound."
· "Rock God" by Selena Gomez & the Scene. This song pretty much sums up how the main character in Merch Girl feels about her "rock god" and how I feel about most of mine!
· "Gypsy Jones" by Capra. I love the gritty style and voice of this song, very rock 'n roll!
Meet the author,
Rebecca Lewis
:
Rebecca Lewis is the author of the Young Adult novel, Merch Girl, and a lover of all things music! She's been writing stories since middle school and penned her first fanfic about a semi-popular boyband in 1997.
Her passion for music and writing brought her to Boston University, where she graduated with a Bachelor of Science from the College of Communication, focusing on Public Relations. During her college career, she interned for various record labels in Boston and New York City, sold merch for local bands, worked at record stores, and did a whole lot of grassroots marketing.
She currently resides in Florida with her husband and crazy Bahamian Potcake puppy.